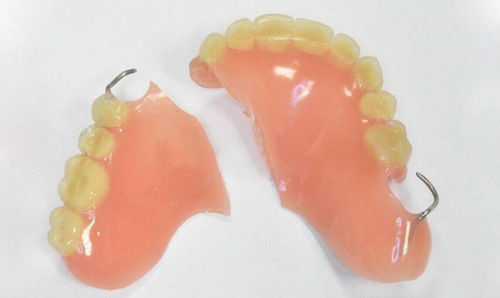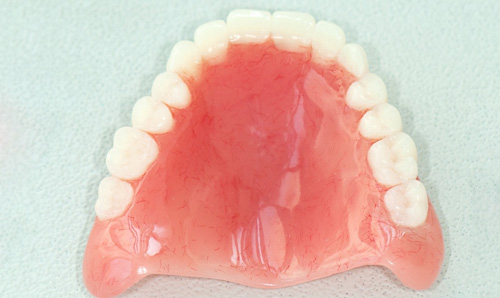 When a prosthesis breaks down, a person's life ceases to be full, because it is part of our body. Sometimes repairs take several days.
We offer an expedited service in which a courier will pick up a broken prosthesis and return it to any address within a few hours.
Repairs are made from the best materials, the highest quality is guaranteed. If necessary, intermediate fittings will also be installed.
We are the only one in the world to offer an innovative type of fully removable denture, which is distinguished by its appearance and properties.
On the base of the prosthesis, in the non-abrasive part, there is a logo made of 999 silver, which gives the following advantages:
✔ In the presence of silver in the oral cavity, wounds heal twice as fast.

✔ Silver balances the number of good and bad bacteria in the mouth.

✔ Silver neutralizes a number of viruses that have just entered the oral cavity. Its ions penetrate the causative agent of the virus and destroy it from the inside.

✔ Silver has the ability to evoke positive emotions, and we ourselves were glad to see how happy our patients were when they found out that their new dentures were wearing 999 silver.
✔ Silver prevents discoloration of the denture.
✔ Silver makes your breath always fresh.  
Author: Stomatology Doctor: Tigran Karapetyan
Copyright licensed by the Ministry of Economy.
The most natural prosthesis from the leading experts of the Caucasus
Hollywood smile has become a reality
The specialists who won first place in the "Most Natural Prosthesis" competition in Moscow are in Armenia. 
The main question for those wishing to make a prosthesis is it soft or hard.
We manufacture all types of prostheses of any complexity, but in the case of fully removable ones, we prefer high quality hard acrylic prostheses of the latest generation, which, in contrast to soft ones, have the following advantages:
Unlike soft dentures, which distribute chewing pressure, causing wear on the gums, hard dentures transmit chewing pressure through the entire mucous membrane due to their strength.

Unlike soft dentures, they are not able to collect colored pigments and therefore do not change color.
In case of careless breakdown, it can be repaired.

If you have certain teeth, one of which needs to be removed, you can add a tooth on a new generation of hard dentures as opposed to soft ones.

It can be restored after years.

With rigid dentures you can get a Hollywood smile, the gum tissue is so natural that even veins and capillaries are visible in them. The taste has the same natural unevenness that allows sounds to be fully expressed.

Rigid dentures offered by us can be attached to implants at any time so that they become immobile.

Rigid dentures bear the 999 silver logo, our own patented invention. Read more about this in the section "Silver Prosthesis".

Unlike the old version, the new generation of acrylic dentures cannot be removed at night, they remain in the oral cavity.